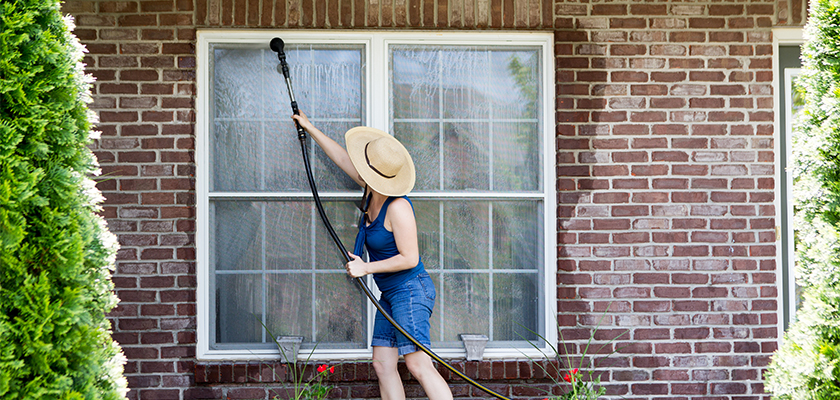 Spring is in the air, meaning it's time to put away those snow shovels and get out your gardening spade. But before you get to tending your azaleas – even before you bust out the feather duster for your annual spring cleaning – make sure you check the maintenance items on this list to avoid serious problems with your home down the line.
Inspect your home's foundation and masonry for cracks or damage.
Foundation problems can be a serious pain – and an expensive one – so you'll want to inspect your home for any large cracks or damage once the winter snow melts away. Be on the lookout for misaligned doors or windows, cracked drywall, water in your basement or crawlspace, and sloping floors or staircases.
If you see especially wide cracks – larger than a quarter inch – you may want to contact a professional to have the crack patched or repaired. Left untended, foundation and masonry problems can be the cause for serious financial headache.
Have your air conditioning system inspected and serviced.
Chances are you haven't used your air conditioning system for a few months, particularly if you dwell in a colder climate. Spring is the opportune time to get it checked out and primed for the heat of summer. From replacing filters to checking hoses and connections for leaks, you'll want to make sure everything is clean and functional before the season gets too hot.
While you're at it, you can also dust the unit, clean the connections, and ensure all drain pans are clear of blockage and debris. If you're not comfortable doing this, call in a professional. Likewise, if you find your air conditioner suddenly stopped working, you may be covered with your home warranty through Select. It's a less expensive alternative to replacing your air conditioning system, that's for sure.
Clean your home's exterior, including gutters, downspouts, windows, and siding.
Take the time to clean your home's exterior, removing dead leaves and debris from your gutters and clearing your downspouts. Windows should be washed carefully using glass cleaner. You can also use a pressure washer to clean the siding of your home – just be careful not to use it on your windows, as you may damage your wire mesh screens.
Inspect for pests and do what you can to prevent them.
Between mosquitos and termites, the warmer weather can be rough on both you and your home. Look for instances of still water – these are prime breeding grounds for mosquitos. You'll also want to inspect your house for any small holes that may be from termites. Spring is when termites tend to swarm. If you see signs of termites, get in touch with an exterminator right away.
Clean and test your home's major appliances.
Spring is the perfect time to clean and inspect all your home's major appliances. Thoroughly clean out your refrigerator and replace the water line filter if you have one. Run the tub clean cycle on your clothes washer and clear out all the lint in your dryer vent. Check your dishwasher and garbage disposal for any leaks that may have popped up over the winter months. You'll also want to clean and test your stove and oven. If you discover that your appliances aren't working, reference your home warranty plan – you may be covered!